The Happy Eyes Desk Lamp mini-review
Dr. John
---
OK, so it's not a piece of computer equipment, but I'll bet most of you out there have some crummy desk lamp on your computer desk. And maybe you've thought it would be nice instead to have a decent light for your computer work area. Well, if so, then you should read on about the oddly-named "Happy Eyes" desk lamp.

The Happy Eyes Desk Lamp is not an ordinary light. It uses a special type of "Verilux" fluorescent bulb to produce light very close to the spectrum of natural sunlight. And it produces quite a bit of light, equivalent to approximately a 100W to 150W incandescent bulb. But the spectrum of the light is shifted much further toward blue than the yellow light produced by a regular light bulb. And it puts out all that light while using only 27 Watts of power.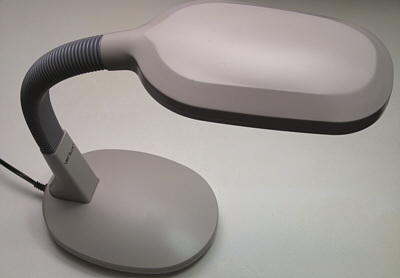 In some ways, the Happy Eyes desk lamp is retro in appearance, with an adjustable "gooseneck" support which lets you position the light to your needs. The lamp stands about 14 inches tall, and from front to back, is about 17 inches deep. So if you have a very cramped computer desk, the Happy Eyes lamp may be a little bulky as compared with a small halogen lamp. But the benefits over a halogen desk lamp are numerous.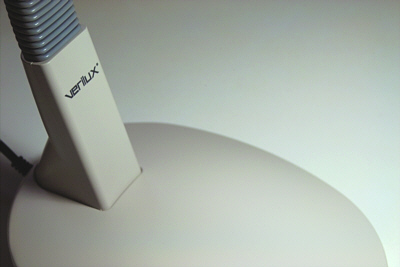 First off, The light from the Happy Eyes lamp is very close to sunlight in spectrum, which is very useful if you are printing photos in color and want wide-spectrum lighting to review them. Also, the compact fluorescent bulb uses less power than halogen lights. And just like a halogen lamp, the Happy Eyes light turns on instantly without any of that irritating fluorescent light flickering. And it uses solid state circuitry to produce an even source of light that does not flash 60 times per second the way normal fluorescent bulbs do. In fact, I hate normal fluorescent lights, not just for their irritating 60 flickers per second, but also for their un-natural spectrum. Happy Eyes lights eliminate both of those problems, and deliver natural, steady light.

But the real test is to take some digital pictures with the Happy Eyes lamp and with natural sunlight, and compare them side-by-side. So that's what I did!

Below you will see two pictures, the top one was taken using the Happy Eyes lamp without any additional lighting. The color rendition is quite good.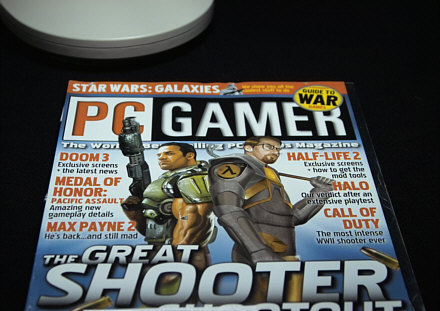 And the picture here was taken with natural sunlight on an overcast day. As you can see, the color rendition is not identical, but it is very close.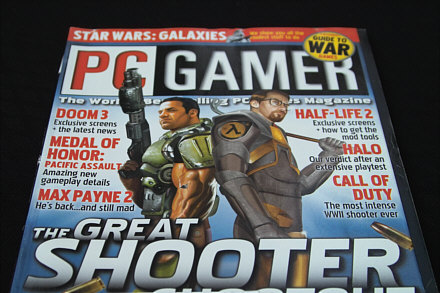 I can honestly say that the Happy Eyes desk lamp is the best desk light I've run across. It turns on and off instantly, produces an abundance of natural, flicker-free light, and does so with very low power consumption. It is a technologically advanced fluorescent light source that is not just good for checking color rendition on color prints, but also for fatigue-free reading and desk work. I highly recommend it.
---
Happy Eyes Pros
Natural light in a lamp
No flicker!
Long bulb life
Instant on
Bright
Low power consumption
Excellent for previewing color prints
Happy Eyes Cons
More expensive than typical desk lamps
larger than most desk lamps
---
---
RATINGS:
Happy Eyes Desk Lamp:
Price: Approximately $75US retail
Rating, : 4.8 out of 5 smiley faces (96%).
:) :) :) :) + Recommended
Availability: Good
Link: Buy Happy Eyes Lamp
---
---
© Copyright, October 13th, 2003 KickAss Gear